The Parish Council arranged a Village `Picnic for July 2021 to celebrate being able to mix and mingle again after lockdown.Due to the extension of lockdown, it had to be postponed until Sunday 5th September.
After many dark and dreary days through out August, we were blessed with a glorious sunny day. The Old School Samba Band came along and opened the afternoon with their distinctive and rousing drumming.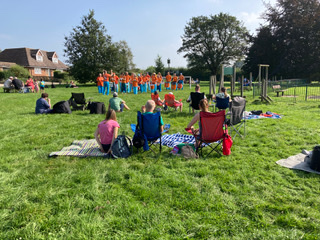 Kettle Bridge Concertinas also came along to entertain. A quieter and more traditional entertainment. The played a wide variety of tunes, the folk songs sounding especially good on the concertina.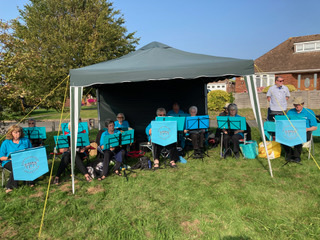 A pleasing number of villager came along and enjoyed the atmosphere and their picnics.
The Good Intent did a roaring trade, they had to call in another member of staff!
The Ice cream van came later than expected, but did a great trade when it did arrive.
An inspection of the Green after everyone had gone was impressive. NO litter. What a great village we live in.
Comments for attendees "Can we do it again, next year?".
You never know!!