Picture the scene – as recounted recently by a village allotment holder. You're busily digging in the load of farmyard manure delivered to your plot. You pause to wipe the sweat from your brow when something catches your eye. Looking up, you see them. Three brown birds. Large brown birds. With hooked bills. Curved claws in yellow talons. You hear the rush of air through feathers, barely a wing's length away. Buzzards.
Not what you expect on your allotment. Robins, yes. Blackbirds naturally. Even a pesky woodpigeon or two. But buzzards? They're birds of prey surely; rabbits and that. Even lambs (so you've heard). Wasn't there something in The Sun about them taking a baby from a pram?
But your infants are safe and may be lucky enough to grow up seeing these magnificent creatures at close quarters. Now we are finally recognising these graceful, soaring birds as the harmless small-mammal hunters they are, they are no longer persecuted, apart from by a few rogue gamekeepers on shooting estates. So, they are once again becoming a familiar part of our countryside. No hot summer day is complete without their mewing calls as they spiral upwards on thermals or pass food to each other as part of their mating rituals.
Nesting as they do in small clumps of trees as well as woodland, they nest in Quarry Wood and Hamlet Wood, for example, they are adapting to the chequered and increasingly built-up Kentish landscape.
Their claws are actually quite small – a large claw isn't an advantage if you are trying to grab a mouse - but they can manage a young rabbit, or a slow, elderly one. But rabbit numbers fluctuate when disease, like myxomatosis, ravages their population, and the last ten years has seen it decimated by another, rabbit haemorrhagic disease.
So, when food is scarce, what do these large, fierce-looking birds turn to when when they're hungry?
Another of their staple foods. Worms. In a ploughed field - or your allotment.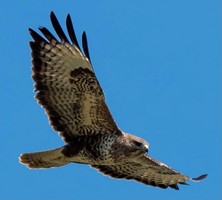 Photo by Darren Nicholls