What's happening to our birds? Media headlines are becoming increasingly fraught with reports of dwindling biodiversity (it is), and the UK being the most nature-depleted country in Europe (it appears to be if you dig deeper into the often monotonous, but green, farmland that covers much of our countryside) and when hearing a once-common bird like cuckoo or skylark is something to comment on.

But although their numbers are tumbling in much of the countryside, they seem to be doing well in our gardens. Figures just released to mark twenty-five years of the British Trust for Ornithology's Garden Birdwatch scheme (https://www.bto.org/our-science/projects/gbw) suggest that gardens are a much-needed haven for some hard-pressed familiar species. In the south east, for example, finches, tits, house sparrows and starlings are the birds most likely to be seen at our feeders.
Two of these though, starlings and house sparrows, have suffered significant declines. House sparrow numbers halved in the south east between 1995 and 2007, but are hanging on in our gardens and are just starting to increase again. Starlings, though, have declined by sixty percent and their numbers are still dropping, even though they seem ever-present in our gardens.
Both these species are regular visitors to my East Farleigh garden and, for almost ten years I have been ringing first house sparrows, and then for the last two years, starlings for research into their declines being carried out by the BTO. This showed that the life expectancy for an adult house sparrow was slightly less in the south-east than elsewhere in the country; roughly forty-three percent of adults die in each year – to be replaced by a roughly equal number of young birds who survive their first winter. So the species is just about hanging on.
From May to July last summer I trapped and ringed three hundred and twenty starlings in my garden as part of this research, so we still appear to have a reasonable population. While they are still visiting our gardens in good numbers there is still hope. Unfortunately, their numbers are nowhere near enough for many of the spectacular winter murmurations like the ones we used to see when I was (a lot) younger. Just a few days ago I saw what I estimated to be a flock of three hundred starlings swirling about like stirred coffee, occasionally turning a mustard yellow when caught in the setting sun. Although it was a beautiful sight, it was tinged with sadness in the knowledge that it hardly compared with what we used to enjoy.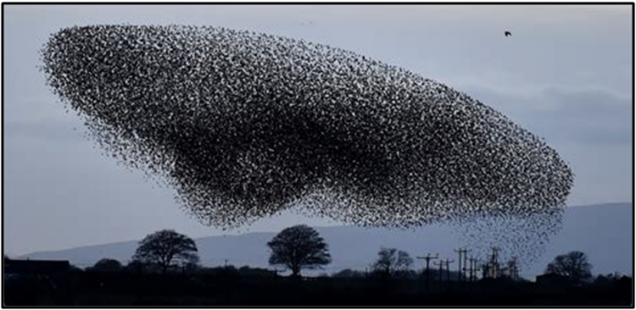 Our changing climate is having an effect too - and, again, it is not all bad new as far as gardens are concerned. Some birds are actually spreading across more of the country, partly as a result of having gardens with bird feeders to help them move through built-up areas. This link will provide more information https://community.rspb.org.uk/ourwork/b/biodiversity/posts/how-does-climate-change-affect-garden-birds
And here is a bird that is benefitting from a warming climate. It's a little egret (photo courtesy of Darren Nicholls). Formerly a mediterranean and tropical bird it is slowly spreading north - this one was photographed in Marden recently. Not exactly a garden bird, but good to see on our lakes and rivers. I recently saw one in Tovil, perched on a Tesco trolley someone had thrown into the Loose Stream.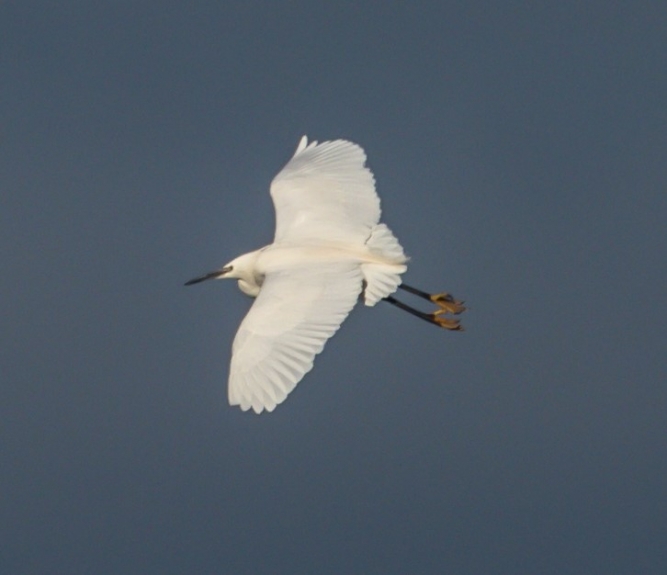 So the message is - birds need our (preferably not too tidy) gardens and the food we put out for them. So why not become a regular garden bird feeder? If you want to make your garden feeding even more useful, sign up for the BTO's Garden Birdwatch and double the pleasure too.