The (hoped for) improvements being carried out at the level crossing and bridge in East Farleigh jogged my memory of a pleasant five minutes I once spent in my car at the front of the queue on the Barming side. My mild irritation and boredom turned to delight when I noticed a bird disappear into a tiny hole in an iron post supporting the crossing gate. The hole had been left by a no-longer-needed bolt, and provided access for a great tit. As the bird and its mate returned several times carrying food during my enforced stop it was clear they had a nest, and were raising young less than a metre away from passing traffic and hurtling trains.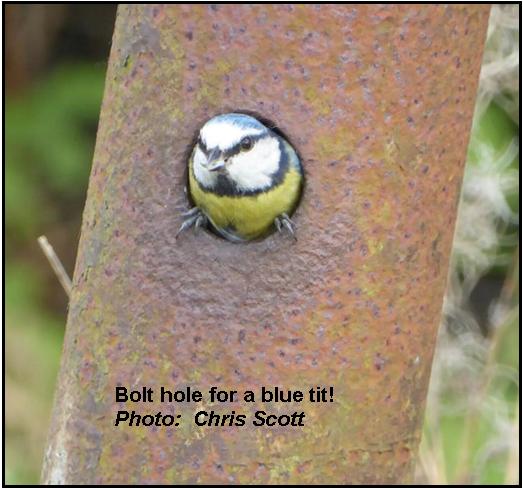 No doubt once the current workmen disappear the traffic will start (or, more likely, stop-start) flowing again and traffic and birds will return to normal. And 'normal' is actually quite interesting if you have the time to stop and look. I have seen a mistle thrush nest with young about to fledge on the footbridge, directly above the Maidstone bound line; kestrels regularly use the mobile telephone mast as a hunting perch and scores of house sparrows inhabit the litter-filled brambles by the car park. From March onwards, even above the din of the traffic and the water flowing over the weir, you can hear a multitude of avian songsters selling their pitch to the ladies – blackcaps, wrens, blackbirds and song thrushes are particularly noticeable. Such is the profusion of small birds around it, the station also attracts smash-and-grab visits from the local sparrow hawk.
Those travellers doomed to travel to London can find solace on the Tonbridge bound platform as it affords a good view over the river where grey wagtails nest on the lock, cormorants are regularly seen diving for food and herons patiently stalk their breakfast. You may even be fortunate enough to catch a glimpse of a passing kingfisher.
So if you are one of the many villagers who make a daily commute by train, keeping your eyes and ears open will help remind you that nature carries on regardless, and it may even start your day on a positive note.
If you are one of the lucky villagers able to wander at will during the day, keep an eye on the two new nest boxes installed on trees at 'the triangle'. Blue tits are enthusiastically inspecting boxes now in preparation for egg laying in April, so they could well be eyeing-up the boxes intended to enhance our Village in Bloom submission. Fingers crossed they do nest in one of the boxes – if they do I'll keep the village updated on the number of eggs and their progress.