Blue tits in the three occupied nestboxes we monitor in East Farleigh churchyard have had a struggle this year. Clutches of six or seven eggs were laid in each. The pair in the box by the lychgate successfully fledged the full clutch; each time I visited, the female was sitting tight on the nest while the male was close by aggressively intimidating me with his calls. Such an attentive male was almost certainly making sure his mate, and eventually their chicks, were well-provisioned with food. It was a different story at the other two boxes, where only two chicks survived in each. In both cases it is likely one of the pair was missing and the remaining bird was unable to find enough food for the whole brood.
The same species has also been up against it in my own garden – three nests were predated, probably by a weasel, great spotted woodpecker or magpie. Blackbirds and thrushes have also failed to fledge young so far, but I saw my first young robin today. Nesting in hedges and shrubbery, they are not only prone to predation but also human disturbance – albeit usually inadvertently.
With the impact of the Beast from the East, it seems at the moment that birds have had a tough time this year, with numbers of summer visitors like swifts also low. With luck, a benign summer and long autumn, along with a mild winter, will provide the wild food and overwintering conditions necessary to keep their populations up until next year.
Let's hope Ted Hughes' words about the return of our summer swifts continue to hold true:
'Look! They're back! Look!' .....
... They've made it again,
Which means the globe's still working, the Creation's
Still waking refreshed [for now.... my words]
from Swifts by Ted Hughes
However, my garden feeders are now attracting reasonable numbers of blue and great tit fledglings, with a sprinkling of young house sparrows, goldfinches and chaffinches too, so all is not lost. Given the lack of insects around now (even in the countryside) garden feeders are a lifeline for some small birds – and if you attract birds to your garden they will also tuck into the aphids and other pests on your flowers and vegetables. So it's worth keeping the bird table clean and replenished.
And just as the last of our summer visitors – the swifts – arrive, the first cuckoos are starting to leave us for their African wintering grounds. One of the birds newly satellite-tagged by scientists this year left his summer patch in Thetford Forest on 14th May, and by 15th June was in the south of France, at one point flying 528 miles in just two days. Find out more about our tagged cuckoos here
Scientists are working hard to understand more about the migration routes and wintering areas of our fast declining summer visitors. Satellite tracking devices have been fitted to cuckoos for some years now, and even smaller species like swifts can have data-loggers fitted, which track the birds' movements but each bird has to be retrapped (usually at its nest – they use the same one each year) and the data-logger removed in order to recover the data.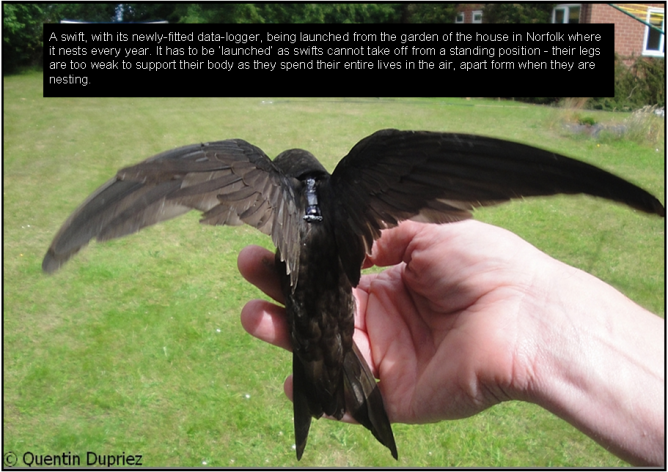 To find out how you can help swifts visit the Swift Conservation website - they are giving a talk at Scotney Castle on 19th July.
Village churches are now a popular choice for artificial nest sites - just a thought!
As some of our other summer visitors start to depart in July, the young of some of our resident species are also on the move as many disperse from the area where they were hatched to find new territories for themselves. This is nature's way of helping to ensure the gene pool is stirred each year to avoid groups of birds becoming interbred. Two Farleigh gardens have already been pleasantly surprised by the arrival of dispersing youngsters, in this case a nuthatch. Nuthatches are scarce in east Kent, but relatively widespread in west Kent and elsewhere in the country up as far as Scotland, and one of only a few native species whose numbers are increasing.
These beautifully coloured birds specialise in a life in the trees – finding insects in the bark and using their strong pointed bills to hammer open hazel nuts that they have wedged into larger crevices. They are also the only birds in the UK that can walk, headfirst, down a tree-trunk thanks to their opposing pairs of toes on each foot. They are likely to be found breeding in areas where great-spotted woodpeckers live: the woodpeckers excavate a new nest hole each year, and the nuthatches frequently move in to the old one. However, a bit of DIY is often necessary to reduce the size of the entrance hole, which the new residents achieve by plastering mud around it.
The next best thing to having one in your own garden is to make yourself a cuppa, put your feet up and watch an hour of this beautiful bird here - enjoy!