Spring has well and truly arrived, and the madness begins with jobs to do all over the garden.
The days are now longer and warmer,but worryingly, we still have had very little rain.
The risk of frost is a lot less and should have passed by the end of the month, so now is the time to harden off any frost sensitive plants, and start sowing outdoors if you grow hardy annuals.
This April and May is giving us a magnificent early show of colour from around Smiths Hall garden. The highlight for me has got to be the wisteria which never fails to amaze me with its beauty and heavenly evening scent.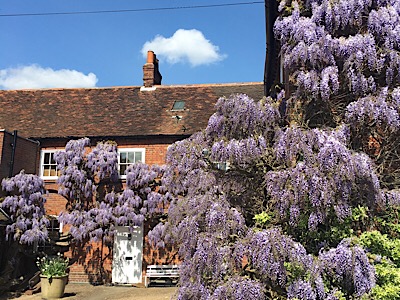 BORDERS
You can still plant any herbaceous plants you buy to fill gaps but remember they will need watering regularly until established, at least once a week.
This is your last chance to insert plant supports, stakes and string and netting in herbaceous borders, before tall plants flop during wind and rain. Delphiniums especially!
Don't forget to keep tying in climbers, even if you did it at the beginning of of the season, they'll get out of control if you don't keep on top of it. Roses, sweet peas, and clematis are all usual suspects.
see below a pic of a beautiful flowering bulb we have around the garden called Camassia.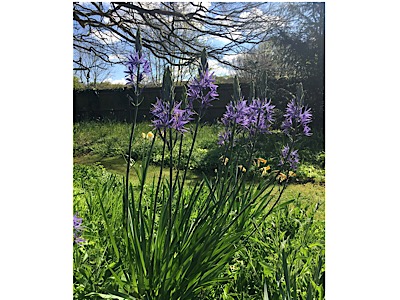 WEEDS
Weeds are on the rampage, and must be kept at bay before they shed their cursed seed and run wild throughout the Summer. Good old-fashioned hoeing and hand-weeding are still the only way to get between plants in beds and borders and mulching is a good way to suppress the weeds from emerging as well as conserving moisture in the soil.
Larger areas like paths and drives I would use a glyphosate based weedkiller to save time. These can be bought ready mixed in garden centres and DIY stores.
POTS
Bedding plants for Summer displays should be planted out late May to get the absolute maximum pleasure from them. Plant up window boxes or pots, and be bold, there is so much on offer at this time of year. Geraniums, Pansies and Petunias are all good old favourites but why not try, Diascia, Dahliettas, Thunbergia (Black-eyed Susan), Lantana, Heliotrope. There are so many to choose from these days that flower continually all through the summer.
Just make sure your containers and hanging baskets are watered regularly. And after 6 weeks you should start feeding weekly.
AND FINALLY
Whatever work you do in the garden this May, don't forget to take a little time out at the end of the day to relax and appreciate the fruits of your labour!