Mystery of the missing Spitfire
Geoff Cox was 15 years old and standing by the lychgate of Teston Church at 7pm on 15th August, 1940. Years later he painted this dramatic picture to crystallise his recollection: a Spitfire in flames passing behind the church and crashing into the Medway valley below. It was the height of the Battle of Britain, which was being fought in the skies above Kent.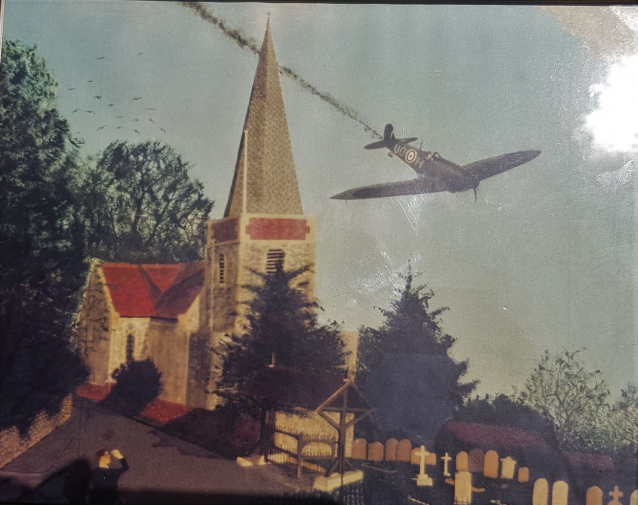 We know from local records that the pilot was a young Australian, Frank Cale, of 266 Squadron, based at Hornchurch, and the aircraft was N3168. We know that it was shot down by a Bf 109 and that Frank Cale baled out. His parachute harness was burned and he may already have been fatally wounded. His body was found in the river the next day, and the harness, badly burned, was found in a nearby orchard. The photo below is an extract from the Battle of Britain's records: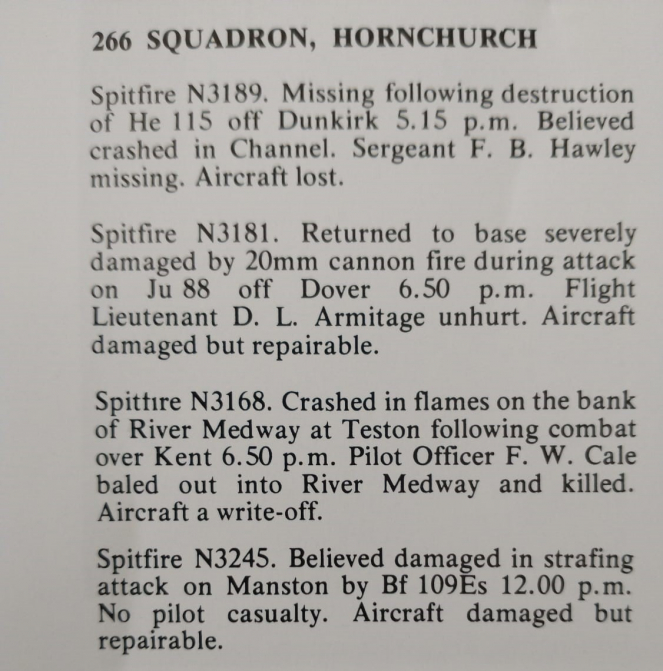 A fellow pilot - (later Squadron Ldr) W Ross Jones who was flying that day gave a graphic account of it (extract from a letter written many years later):
15th Aug 1940 a memorable , if not a disastrous day, we claimed 12 enemy airraft destroyed, six damaged, but tragically we lost Pilot Sgt Hemsley, Co S/Ldr Wilkenson, P/O Cale, P/O Bowen, Sub/Lt Greenshield RN (FAA). F/Lt Bazlay survived his "baling out". P/O Sodan injured in combat but landed safely at base – Manston – yet at 5.30pm I went on my 5th sortie of the day primarily to look for our missing pilots, mid channel, encountered a HE115 kind of air Sea/Rescue float plane – made a pass at him – but thinking he might be picking up some of "ours" and theirs, left him to carry on his good and/or bad work!
This was of course the peak daylight raids on London – 300 plus enemy airraft mainly JU88s. Some HE111s, under cover of ME109 and the off Fx190, the Hurricanes of course had a meal with the bombers, whilster we "spits" had as always the high cover to contend with, with dire results.
I was with him [Frank Cale] when he was shot down (I was flying N3127). Cale was flying N3168 and I hazard to guess that Frankie Cole might have been mortally wounded before "baling out" but I've a feeling that he may well have been "shot" whilst floating down, since in the same encounter, our Flight Commander F/Lt Bazley was shot down, and baled out and whlst floating down he was being "shot at" by a ME109 and I chased the b******d and gave him 2 x 5 second bursts. The last I saw of him, was at low level over the coast by Margate – whether he managed to survive I do know or even cared. I claimed one ME109 damaged, not that anybody cared – but thankfully Bazlay landed safely in Kent only to survive a few more months.
Postscript: there is some mystery surrounding the location of the wreckage of N3168. For several months in the spring of 2021, the Battle of Britain Museum at Hawkinge near Folkestone looked for it along the Medway, using a very sensitive metal detector capable of finding metal 5m underground. The search was dogged by the wet weather. Every field on both sides of the river was scoured, without success, although some quantities of melted aluminum were found in the rhubarb field by Teston Bridge. However these may relate to the Bailey Bridge which was installed there at some point during the 1950s when the bridge was being repaired.
Newspaper report including this incident: