GRETA IRENE BOTTEN
5TH DECEMBER 1932 – 28TH SEPTEMBER 2021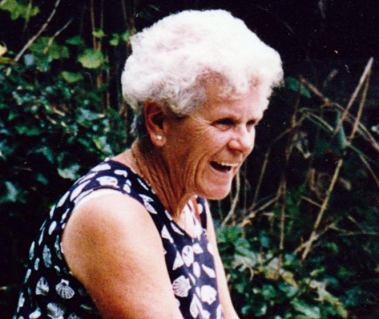 Greta was born in Battle but grew up in Robertsbridge. Her first job was in a chemical factory in Tenterden, where she trained as a chemist. It was here she met her future husband, Peter. They married in April 1954.
Peter accepted a farm maintenance job, which came with a house, at Tutsham farm. They settled in Kennel Cottage, which is in Wateringbury. It was there they raised their 6 children.
Unfortunately, the house being close to the river it was at risk of flooding. In the 1968 they had to be rescued by boat from the bedroom window! It was then that the Days decided to move the family closer to the farm and further away from the river.
They moved to Marshalls Cottage in Hunt Street. When Peter retired, they moved to Tutsham Cottages and lived next door to Geoff and Candy Martin. Greta did casual farm work while raising her children. Subsequently working as a cook at BHS and the Safeway. She then moved to Linton Hospital as a housekeeper. She later worked for Peter Day, driving him around to do shopping and generally looking after the bungalow in Charlton Lane. She followed this by working for Mr and Mrs Randell.
After her husband's death, Greta moved into the village to a house in Charlton Lane. She retired finally aged 80.
Greta joined in village life, joining the WI and the Evergreens. She was often seen driving about in her little yellow car, taking friends out and about.
She will be a loss in the village, her wicked sense of humour and cheekiness will be missed by many folk!
She was not without mishaps in her life! Greta had put a ham joint on to boil and went out to pick the children up from school. On their return there was a fire engine and black smoke pouring out of the window. She had forgotten to put any water in the pan.
Another occasion on Christmas day, she tripped on a step in the kitchen knocked over a pile of saucepans, managing to get one stuck on her head. A trip to A&E was needed to remove it, which included having stitches! Greta was more upset that she had to set to and cook the Christmas lunch when she got home!!
Her daughter, Jean, will not forget the time she realised that both her mother and father were asleep in the car. Greta was supposed to be driving! What made it worse Greta was towing a caravan!
Another occasion, when she was driving to Bluewater, she found herself at the Dartford Crossing. Unbelievably Greta persuaded the attendant to stop the traffic so she could turn around and go back to Bluewater. Only Greta had enough cheek to ask!
Greta was planning to wing walk on her 90th birthday, but could not get insurance, so her plans changed to going down a zipwire. She did not make it, but her family will do it instead!
We hope that she is entertaining and making people laugh in Heaven. They will certainly know she has arrived!