RIP RON TAYLOR
Ron Taylor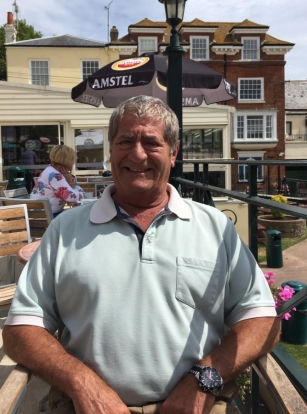 8/11/46 – 2/5/19
Ron was born in Naples to Giovanna and Ernie in November 1946, his dad was with Allied Forces.
Ron and his siblings Eve, Peter and Maria grew up in a loving family first in Belvedere and then in Northumberland Heath. They all went to St Fidelis Primary School and then the boys went to St Stephens in Welling and the girls St Catherine's in Bexleyheath. Ron's claim to fame at school was the pen and ink drawing of the school which was framed and put up in the main reception area.
Following school, Ron went on to serve an apprenticeship with Alexander Sun Tugs and later qualified as a Marine Engineer. After spending a few years with Sun Tugs and being fished out of the river a number of times because he couldn't swim, He moved to Stormont Trucks where he worked his way up, then he took a job at KT Trucks as Service Manager – where he collected a number of trophies from Fords as Service Manager of the Year. Finally, he set up his own motor repair service in Eltham which ran successfully until he changed track totally and worked as a manager at The Tudor Barn. Another step change found him as a ward housekeeper firstly in QE Hospital in Woolwich and finally in St Barthomew's Hospital. He retired in 2012 just after moving to West Farleigh. From then he did a couple of shifts a week in the Good Intent until he was unable to work, as he was having treatment for Cancer.
Ron met Jacky on 30th March 1967 in Floyds Coffee Bar, Belvedere, their first proper date was 2nd April which coincidentally is their eldest granddaughter, Charlotte's birthday. They married on 31st July 1971 and went to live in Eltham where they stayed for 39 years. During that time they had two sons, Michael and Paul and made some lifelong friends all who have been an amazing support to the family during Ron's fight with cancer over these past couple of difficult years.
Jacky and Ron decided they wanted to move away from Eltham, and for two years lived in Barnhurst. They used to come down to this part of Kent, quite often for lunches out and when they found the bungalow on Farleigh Green, they came, looked, had a drink in the Good Intent and decided it was the house for them.
Ron had perfected the art of Grumpiness. He was called Grumpdad and Grumple Ron as well as- miserable old sod –he had more mugs, slippers and socks with Grumpy this and Grumpy that than anyone.
On the other hand he was the most loving and caring person. He loved both his close and extended family. He also treasured the relationship he had with his sister Eve and brother in law Bob. He had many friends, from Eltham and locally. His Good Intent friends called him Rocket! Why??
He will be greatly missed by all his family and friends.