In the wake of the recently published State of Nature 2019 report – a summary of how wildlife is faring on our island, and one that shows a continuing decline – I decided to look at my own records for my garden birdwatching. Although I've lived in The Farleighs thirty-seven years it was only on retirement that I found the time to keep regular records, so I compared totals from the last three months in 2019 with the same months in 2012.
To my surprise, the numbers of species recorded were identical: thirty. But closer examination revealed small changes, and reflected those in the national report. I no longer see spotted flycatchers making their circular, loop-the-loop forays to catch insects from my garden trees; being long-distance migrants their numbers have dropped catastrophically as a result of a warming climate (they can't evolve fast enough to cope with the changing weather patterns) and lack of insects (overuse of chemical insecticides is largely to blame). Sadly, there is a strong likelihood of their imminent extinction in the UK.
On the other hand, there has been an increase in predators recorded: kestrels, for example, normally associated with open fields and motorway verges, and the woodland specialist sparrowhawk, while still declining nationally are coming to my garden more frequently. But is this because gardens support more birds for the predators to hunt than the countryside? For some species, such as goldfinch, there is clear evidence that garden feeding has helped their population increase and I rarely record fewer than four individuals at a time on my feeder.
But, overall, the consensus is that we are now rapidly changing our climate and destroying the natural environment on which humans depend. We aren't destroying the planet of course, it will continue spinning through space whatever happens – it's just that we won't be on it!
Had He been alive today, would Jesus have joined the group of The Farleighs villagers at the Extinction Rebellion protests? It seems He wasn't one to shy away from controversial action where moneylenders and tax collectors were concerned, so would He also be rebelling against the destruction of His creation by inconveniencing their modern day equivalents in Westminster and The City. Answers on a postcard please .......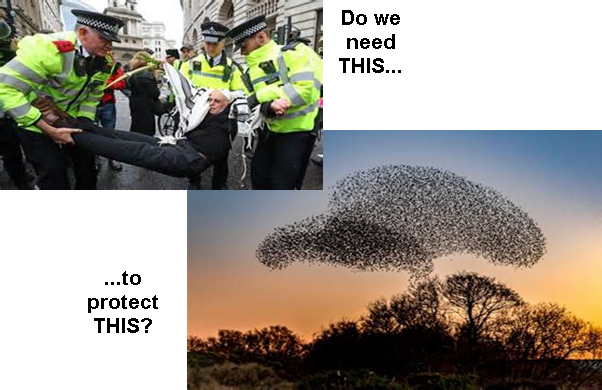 Some Farleigh residents visited the recent Art in the Garden event at Marden. You will be pleased to know the event raised over £1K for local wildlife - £800 of which was presented to the RSPB. KM report below:
ARTISTS PAINT A BRIGHTER PICTURE FOR WILDLIFE

Wildlife conservation in Kent received a boost from the work of local artists at a recent two-day 'Art in the Garden' exhibition. Painters and sculptors were among twenty-five artists who gathered to show their work in the delightful grounds of the medieval Mill Farm House, home of Marden designer and photographer Claire Dominic.

With much to catch their eye, visitors enjoyed browsing the art and stalls of local produce. Live music from local bands provided the perfect background to relax with homemade cake and tea, or locally produced beers, cider and gin.

The natural world was represented by The Big Cat Sanctuary and Operation Turtle Dove. Both provided insights into their groundbreaking work in Kent and shared the entrance proceeds from the two days.
As a new village resident Claire Dominic said she was "impressed by the wealth of wildlife in the area" as she presented Nicole Khan, the RSPB's Turtle Dove Officer for Kent, with a cheque for £800 to support the work of Operation Turtle Dove. Farmland in Marden is one of the few places in south-east England where the iconic Turtle Dove can still be found and local landowners are working closely with the RSPB to give this bird the lifeline it needs to avoid becoming extinct in the UK. Nicole praised local farmers' enthusiasm and confirmed that it has been a very productive year for Turtle Doves in Marden and the surrounding countryside. She said "The money will be used to provide the supplementary food needed to help the birds through their next breeding season as farmers continue their splendid efforts to help this beautiful dove."
However, the traditional 'second day of Christmas' gift to a loved one will be driven towards extinction in Kent if plans being considered by Maidstone Borough Council to build two thousand houses in Marden are allowed to progress. Ray Morris, one of a group of ecologists working with local landowners, pointed out that the proposed site supports significant numbers of nationally declining scarce farmland birds. "Whatever developers claim" he said "they cannot mitigate the destruction of farmland on which birds like turtle doves and yellowhammers depend."