For us, August is holiday time – the height of summer. But for many birds, it marks the beginning of autumn, or at least the start of their migration season. By the time you read this, cuckoos we heard in village orchards this year be well on their way back to central Africa. 'Our' cuckoos actually spend less than half the year with us. As I write, on July 30th, of the twelve cuckoos currently with satellite-tags fitted by British Trust for Ornithology scientists, seven are already in the Mediterranean area of France or Spain – one having crossed to Africa then returned to Spain – an eighth has taken a more easterly route via Italy and is now on the northern edge of the Sahara, while three are just completing their desert crossing! The twelfth cuckoo, ringed in Sherwood Forest in May 2018, was sadly found dead on July 3rd near Dungeness. It had apparently hit a window. Yet another man-made hazard that birds have to face.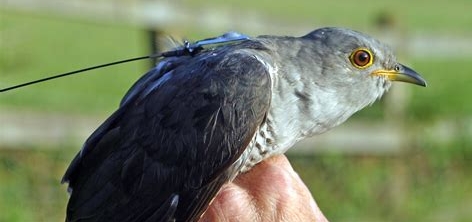 Swifts are another species we associate with summer as they screech through the skies above us. They, too, leave us at the beginning of August, to winter soaring above tropical Africa and the Atlantic Ocean. Incidentally, if you are lucky enough to see telephone wires with rows and rows of birds on them, you'll be looking at swallows and martins, as swifts are unable to perch. They spend their entire life aloft, only landing to lay eggs and raise young. Even then, the most they can do is cling to rough surfaces. They have impossibly short legs that won't support their body, so in their nest cavity they have to lever themselves about with their wings.
Churchwarden George Moore came across a swift in East Farleigh church one evening recently. At first glance it looked like a starling, so he assumed it would exit the way it came in. When it was still there next morning he realised his mistake! We tried tempting it through the open door with a recording of swift calls, but eventually had to use a net to trap it (without harming it of course). What a privilege to have a swift in my hand - probably the closest this bird will ever come to any human. A brief examination suggested it was a young bird, but they are difficult to age and sex, even in the hand - and especially if it is your first encounter with the species. It was quickly measured, weighed and fitted with a uniquely numbered ring, and we sent it on its way, thinking that was that.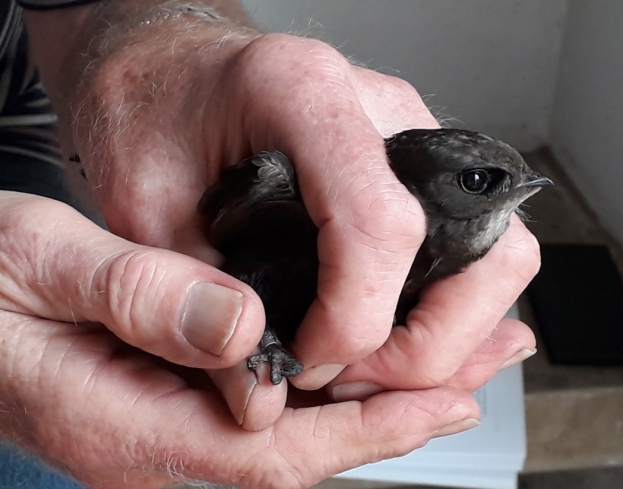 But it wasn't.... Two weeks later the same bird was back in the church! So we think it must have a nest cavity somewhere in the fabric, with a rear exit into the interior. The performance was repeated, but by now I had consulted someone with a lot of experience of the species so, with the help of photographs and wing measurements, we concluded it was probably and adult bird. It was duly sent on its way again and by now it may already be above southern Europe or even the Sahara Desert. Swifts return to their natal area to breed so hopefully it will make the perilous journey to the tropics and back safely.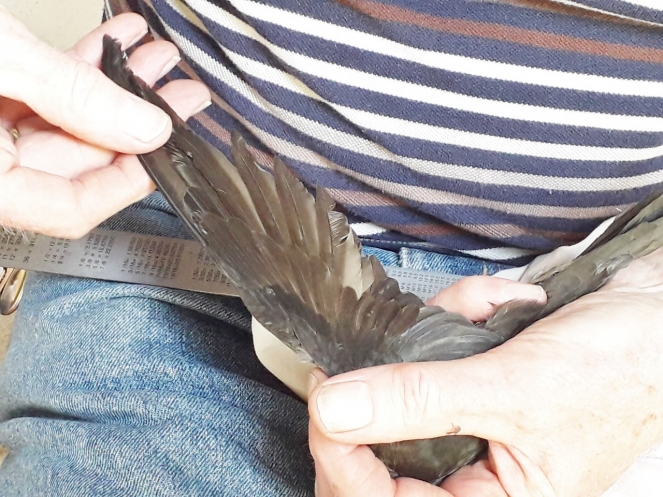 But it will struggle. I've seen just six swifts above my garden this summer, nothing compared to the hundred-plus flocks of not too many years ago. Do tell me if you know of them nesting in a building in the village. Lack of insects and, even more serious, lack of nest sites are problems for them. They nest almost exclusively in buildings – but access to nest cavities under the eaves are increasingly blocked. All is not lost though - many enlightened owners of tall buildings now install swift nest boxes, and plans are now in hand for boxes to be erected around East Farleigh church, as they are on many others across Europe. Perhaps our summer evenings may yet again ring to the joyous screaming of this incredible bird.
If you'd like to learn more, Edward Mayer of Swift Conservation, will be talking about these fascinating birds in Goudhurst on the 18th September.