They're out! Erected a little too late in the year, we were lucky to attract a pair of blue tits so quickly to one of the boxes. On 24th April the female was incubating a clutch of eleven eggs. By 20th May, the brood of youngsters had been whittled down to five. Of that five, four were growing well, but the fifth was markedly smaller that its nest-mates. That's not good news if there is a shortage of food, because its siblings will beg more vigorously for what is available and, as the weakest one, it will lose out. This is probably what happened to the other six chicks, assuming all eleven eggs hatched. It's likely they didn't beg hard enough for the caterpillars being brought and just starved. If they die at an early stage the adults simply remove the bodies.
I made my final check today (2nd June) and found that four of the five have fledged, but the fifth chick – the one that was much smaller – had not survived. As I feared, it was probably unable to beg vigorously enough to attract the adults' attention, and starved as a result. I extracted the nest from the box – blue tits only have one brood, so it's better to remove the nest and, importantly, the parasites it will contain, so next year a pair can start afresh. The nest was about 20cm deep but a search of the soft layers didn't reveal any un-hatched eggs, so it is likely that the full clutch of eleven eggs hatched.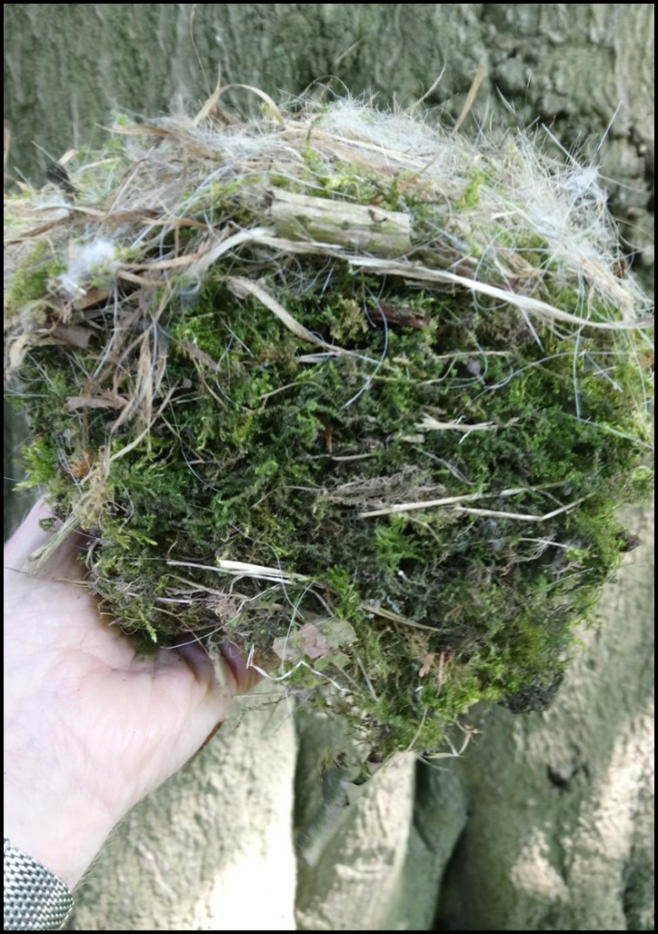 It's mixed news then. Although not perfect, the weather hasn't been particularly cold and wet – so it's not that that has reduced their normal productivity. What, then, in a still-rural village, can have caused it? The answer is quite simple – lack of insects. They just aren't around anymore in the numbers they used to be; numbers sufficient to require drivers having to scrape a layer of dead insects off their windscreen after a couple of hours driving in the summer!
It's been calculated that a pair of insect-eating birds (spotted flycatchers), in order to feed themselves and raise two broods of five chicks between May and September, requires fifty-five thousand insects. When I moved to East Farleigh thirty-five years ago we always enjoyed watching several pairs of these summer visitors in our garden, but we haven't seen one for nearly ten years, so steeply have they declined.
So the drive to make the village a riot of colour with flowers will not only improve life for us humans, but the insects the flowers will attract and sustain will actually make life possible for lots of small birds and a host of other animals. So keep planting – but also resist cutting down the wild flowers too quickly (the ones we usually call weeds). When I stopped to look at the verge on Lower Road it was a riot of cow parsley, buttercups and speedwell, as well as many magnificent flowering grasses. The dandelions had finished flowering, having provided nectar for early bees, and had huge 'clocks' – seed heads full of food for seed-eating birds like goldfinches.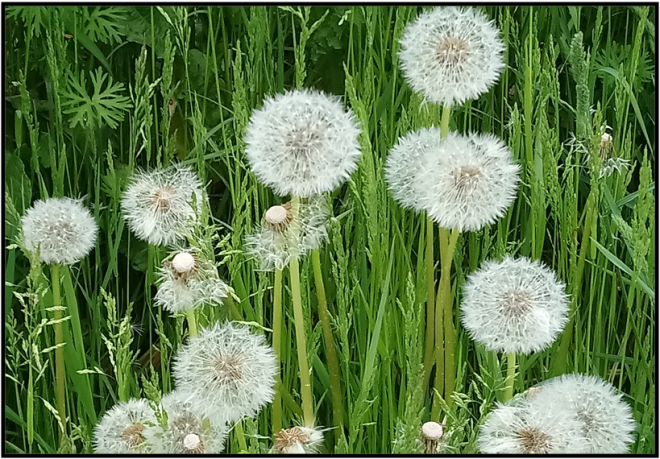 Just what they need until the sunflowers being planted in village gardens, like the one below, ripen and provide winter food for them.