TRAVELS IN MARINE SURVEYING
In the first of an occasional series, Brian Cushing recalls some of the high (and low) spots in thirty years of international marine casualty investigation. In this first article, Brian takes us far away and long ago. To be precise, Ethiopia in 1984. Here it is:
WHISKY IN ETHIOPIA
When McDonnell Douglas designed the DC-3, known to most of us as the Dakota, they got it just right. Purposeful and businesslike, with chunky radial piston engines, a big tail fin and balloon tyres, its all-metal riveted construction radiated an aggressive utility.
The Ethiopian Airlines' machine parked on Bole airfield at Addis Ababa was a good example, with a rampant lion painted on the fuselage and national colour flashes on the tail. You could have confidence in this aircraft, which was a comfort since I was due to fly in it from Addis to Assab, nearly 400 miles away across mountainous territory, on the Red Sea coast.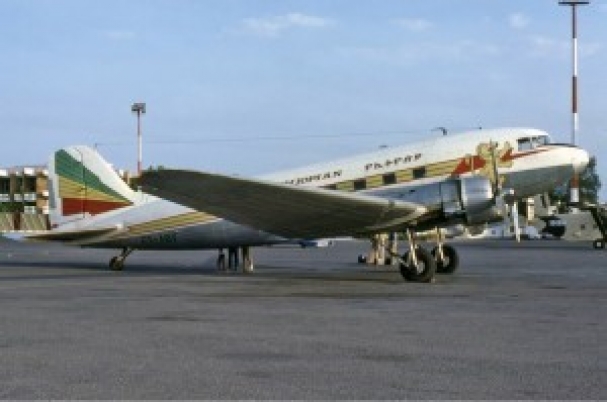 This was February 1984, and I'd been appointed by London marine insurance interests to get to Assab [Aseb] and investigate damaged cargo there which had been carried on a ship from the UK to Ethiopia. Interestingly, the cargo consisted of a large shipment of whisky, which had sustained breakages when the ship encountered heavy weather en route. It was now stored in a warehouse in Assab and a large claim had been lodged with the insurance underwriters. The consignees were the State Trading Company of the Ethiopian Marxist government (the Derg).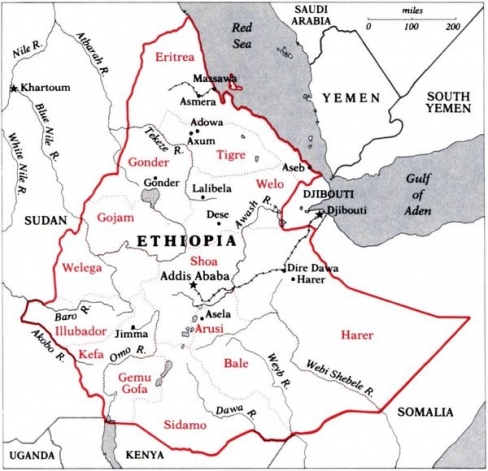 Ethiopia in 1984
The Derg had been in power since 1974, when led by the current President Mengistu they had overthrown Emperor Haile Selassie. As well as this coup, by 1984 a state of war between Ethiopia and Eritrea had existed for more than twenty years, with Eritrea claiming independence.
Because of the internal security situation, I had to obtain a government pass to get from Addis to Assab. Inevitably it took time, and I had been awaiting this precious document for about a week, during which I had little to do except explore the town insofar as it was permitted. I fell in with a bunch of expatriates, mostly single male Brits working with Shell, who used to socialise in the bar of the hotel I was staying in, and when I got the pass they gave me a very good send-off the evening before I flew.
Hence, standing on the tarmac contemplating the plane, it has to be admitted I felt a bit queasy. On boarding the aircraft, I saw that the after section of the cabin had been caged off and contained a substantial number of animals; sheep, goats and the like. I got myself strapped in and after a short delay the engines fired up with reassuring readiness. The plane bustled down the runway and bounced into the air, at which point all the animals simultaneously defecated, which made me feel a trifle worse.
Addis sits on a plain about 2500 metres up, and the pilot seemed determined to fly at no more than 3000 metres, which meant that there was a good deal of turbulence so the animals and yours truly, and evidently some of my fellow passengers, were not one hundred per cent happy. Nevertheless, at last I was on my way to my immediate destination after the lengthy delay.
I had assumed that this would be a direct flight – but as it turned out, there was an intermediate stop at a small airfield adjacent to a village on one of the many highland hilltops on the route. Many of these hills are steep sided, with limited peak areas, and this grass runway was set in one of those. After a bumpy landing, everyone disembarked and trading of animals, vegetables, eggs and so on started between the villagers on the one hand and the crew and passengers on the other.
I got chatting to the pilot, who assured me that despite the difficulties of operating in this terrain, there had never been an accident. Interestingly though, when I wandered off to the airfield perimeter, the fence on closer inspection seemed to be formed of curved metal sections which could once have been an aircraft's frame assemblies. How they got there was anyone's guess but it seemed clear the aircraft would not still have been in one piece.
After we took off again, and I resumed breathing, the motion improved as we crossed the foothills of the highlands and commenced descending into the coastal plain. The landing at Assab was uneventful and I looked forward to getting to the warehouse and starting work on the cargo survey. Inevitably, though, a pass was required to access this government building, so once again I had time on my hands and at least one night's stopover while the necessary documentation was prepared.
I got a cab down to one of the beaches which lies outside the port, and wandering round fell in with a bunch of Germans there on some sort of project work, together with their Ethiopian colleagues, who were setting up a picnic dinner and invited me to join them. (Ethiopians are incredibly hospitable.) The food was typically Ethiopian, it was explained to me. You sit on the ground around a mat on which is placed a large disc of injera, a spongy fermented flour-based dough, with dollops of spicy meat- and veggie based stews, in this case washed down with tella, locally brewed beer.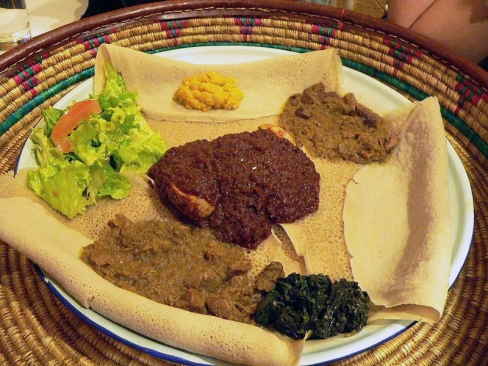 As the evening progressed, and more tella was drunk, we all got quite friendly. There is a tradition called gursha, an act of friendship in which an eater wraps a piece of injera around some stew and pops it into his or her neighbour's mouth. This happened more frequently as the evening wore on.
The next morning I was able to access the warehouse and start my work. In 1984, containerisation was not as ubiquitous as it is now, and there were then many general cargo ships still floating around. This cargo, comprising several thousand cartons of whisky, imported by the government it was rumoured for consumption to celebrate their decade in power, had been stowed on the ship "break-bulk", which meant in blocks of individual cases rather than in shipping containers. The ship had hit heavy weather on the way from Newcastle in the UK to Assab, and some of the stows had collapsed, resulting in substantial breakages.
Most of the cardboard cases had got soaked in leaking alcohol and disintegrated, and there was broken glass everywhere in the warehouse. The smell of alcoholic fumes was overpowering; and with little ventilation, and an ambient temperature of over 30°C, you found yourself getting quite squiffy in a short time. Pleasant though that might have been in other circumstances, I and the warehouse guys helping me had to bail out to the fresh air frequently.
These sorts of survey, of damage to cargo of differing types, don't vary much generically. The surveyor has to establish where possible the cause and extent of loss or damage and the cost of restitution, and report on same to the insurance underwriters who will, with the report as an input, settle the assured's claim (or not as the case may be). This particular survey was pretty straightforward, apart from the large quantities involved – a bottle was either smashed or it wasn't – so it was wrapped up in three or four days and I was on my way back to Addis Ababa, once more in the faithful old Dakota, and then home to the UK.
The report to my insurance principals included a strong recommendation that any future shipments of this high-value nature should be undertaken only in shipping containers rather than break-bulk. As far as I was concerned that was the end of the matter.
Later that year, on 23 October 1984, a BBC team consisting of Michael Buerk and his cameraman famously reported on a devastating famine in the north of Ethiopia, which at its worst had lasted for two years. The country had suffered from famine both before and has done since, but this was the first time that the world at large learned about it in graphic detail, although international governments must have known the facts if their diplomatic staffs were reporting back. The coverage was picked up and directly resulted in December 1984 in the hit "Do they know it's Christmas", and in 1985 Bob Geldorf's Band Aid concert, earnings from each of which went to alleviate distress in the country.
It has been said that the effects of the famine were exacerbated by the Derg government's requirement to fund its expensive internal war effort, and its mishandling of famine relief which included forced relocation of populations. The attributable death toll is debatable but the hundreds of thousands who perished would have included many who suffered from the disruptive effects of the ongoing war between Ethiopia and Eritrea.
In retrospect, the small insurance matter that I was involved in during February 1984 seems a petty affair in the context of those troubled times. However, there was an interesting corollary. On or about 27 October 1984, just after the BBC television broadcast of 23 October, questions were asked in the House of Commons about a shipment of whisky comprising 40,000 cases (480,000 bottles) which had left for Ethiopia in September. The British public, which was by now well aware of the famine, was outraged that the Ethiopian government was appealing for international funds to feed its starving populations and at the same time shipping half a million bottles of whisky to its shores.
A spokesman for the Ethiopian embassy in London claimed that this shipment (and one presumes there may have been others, including the one I surveyed in February of that year) had been ordered so as to alleviate skyrocketing black market prices for such goods in the country. The principle, said the spokesman, was that the Marxist government, which had hitherto banned the import of luxury items such as this, would now allow it so that the goods could be sold at controlled prices. (As he put it: "....to fight the black market and spare the people....")
Whether that is true, or whether in fact the stuff was imported for consumption in celebrating 10 years of Marxist rule, I cannot tell. I'm pretty sure "the people" would not have been invited to share in such a celebration, though.
Brian Cushing
West Farleigh, July 2017