TERRY AYEARS
31st July 1938 - 21st August 2022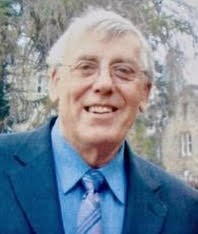 Terry and his family moved into the village when Terry became manager of Courage's local hop farms and they immersed themselves in village life as soon as they arrived
in West Farleigh. Soon Terry was well known in the village - a larger than life, warm, friendly and humorous character.
Terry was an only child, he was brought up in Cliffe amongst his extended family. He left Rochester Technical school and completed a 5 year apprenticeship at Burnett and Rolfe. He met Ann, his wife, while working at Wingets in Rochester. During his life he had many jobs, including going back to Burnett and Rolfe, this time as general works manager.
Terry was always busy and he played tennis, sailed, road motorbikes fixed and rallied cars.
Terry and Ann built their own house in High Halstow, where they had their two daughters: Caroline and Joanne. The girls were 13 and 11 they moved to West Farleigh and they still look upon their time growing up in the village as very special.
When Courages sold up the farms and the new buyer chose not to continue growing hops, Terry needed a new job. Using his network of friends and former colleagues, he found that Shepherd Neame breweries in Faversham were looking for an engineer – and so another era began!
We will all remember Terry fondly for his Christmas drinks parties and his Harvest Supper entertainment, his place on the original Fireworks committee, as the parish clerk and treasurer of Evergreens and much, much more!
Heaven look out! You are about to be re-organised!!