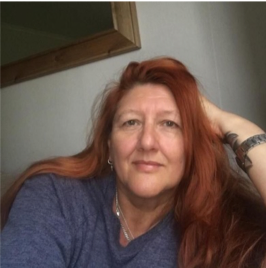 BILLIE-ANNE FLEMING
After a long battle with cancer, on the 21st of June 2022, at the age of 59.
Billie passed away in the Heart of Kent Hospice, surrounded by her family. She will always be lovingly remembered by her daughters Emilie and Alex, and by her grandson Isaac. As well as the scores of other people whose lives she touched.
Billie was born on the 11th of September 1962, in Pembury, to parents Agatha and Thomas Turk. The family settled in Farleigh and Billie attended Cornwallis School. She always loved music, particularly classic rock and blues, and had seen all sorts of bands through the years. The house was never quiet when she was around.
She was full of energy, silliness and positivity, she was no nonsense and straight talking and always hilarious.
Billie was a devoted Mum, Nana and friend. Even through her cancer battle and right to the end, she put others before herself. She would take in people who were having a hard time and still managed to make sure everyone else was loved and cared for.
Billie was absolutely one of a kind, adored by those around her and, even though we miss her terribly, our family feels blessed to have had her for the time we did.
There will be a private memorial held for her, however the date is yet to be confirmed.