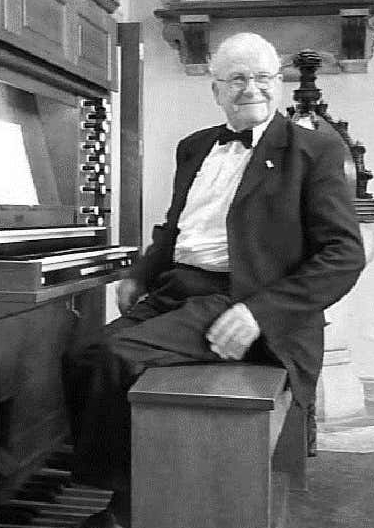 Bob Caudwell celebrated his 100th birthday in June last
year. Sadly, we were not able to celebrate with him due
to lockdown.
It is with much sadness that we report that he died at
home on 27th January, from prostate cancer.
When he moved to Kent at the age of 76, to be nearer
his son, he became the organist and choirmaster at
Linton Church, where he became a well-loved member
of the church. He also played at other churches in the
Benefice to help out. We will all remember, fondly, his
introduction to We Three Kings "full of eastern promise"
and his impromptu rendering of secular Christmas songs
at the end of our Carols Services.
He liked the organ at West Farleigh as it has a theatre
organ setting. He entertained the Evergreens, playing
anything and everything without music, while the
Evergreens enjoyed afternoon tea. He also used to play
when Linton church had their Strawberry teas.
Latterly Bob had to endure deafness and poor eyesight,
playing hymns from memory, and with Margaret
prodding him to tell him the vicar was ready to start the
service etc.
A short clip of Bob playing West Farleighs Organ.
The smile at the end is directed to Margaret his friend and partner.
Bob served with the Liverpool Welsh tank Regiment in
WW11. He served in Egypt, North Africa. Sicily, Italy and
Greece, where he was a frontline infantryman. He
conducted the regimental choir and his concerts were
broadcast by the BBC.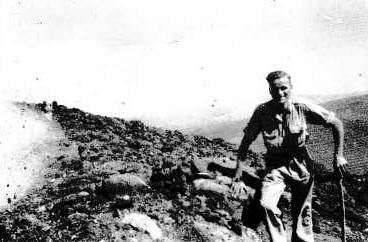 Bob at the top of mount Etna during the war.
He later enrolled as a teacher and taught Maths, Science
and Music. He gained the Licentiateship of the Royal
Academy of Music and became a Fellow of the Royal
College of Organists.
He will be missed by many and our condolences go to his family and cl
ose friend Margaret, with whom he enjoyed
many holiday.