Welome to Chris and Megan Wilson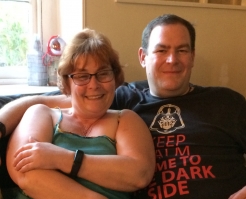 The Wilson family have moved into the top house in St Helen's Lane. They have moved from Gravesend as they wanted a more rural setting with easy access to dog walking areas. They have two longhaired German Shepherds and a labrador.
They are enjoyingin being woken up by the birds and walking their dogs along the river. hris is an engineer working for CocaCola at Sidcup and Megan works for Medway Council looking after carparks and parking enforcement.
Their son Sam is a kayaker and does the sport competitively, havong learnt to paddle in the Scouts. Kitty is a keen dancer and helps out at childrens dance classes. She works at Otford Boarding Kennels.
Chris and Megan are keen to be integrated into the village. Megan already sings with the Farleighs' Choir. Chris played cricket for the village. Lets make them welcome.