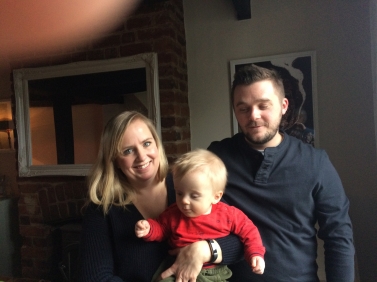 Karina and Stuart Robertson have lived in the village for some years now (7 years in May) but now there is an addition to the family. Little Ivar (pronounced (Ivor) was born in May last year.
You might wonder about the spelling of his name. It is the Danish spelling. Karina was born and brought up in Denmark and still has a large family there. However, she has made her home here in Britain for many years.
Stuart and Karina both work in London, and juggle their work in order to look after Ivar themselves. Karina took maternity leave for the first 7 months and has now gone back to work. Stuart is now on paternity leave and looking after Ivar fulltime. After Easter, they both plan to reduce their hours, so that there is always one of them at home to do the looking after. A very modern scenario!