Joyce's early years were spent in Staplehurst. She came to West Farleigh in 1936 as a housekeeper. She married Edward 'Ted' Morgan in 1943 and they ran a poultry farm. This was a lady who gave a lifetime's service to the church and to the village of West Farleigh.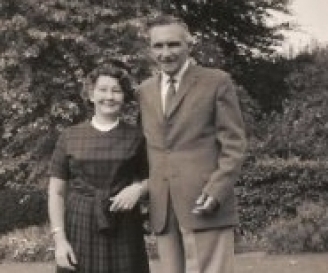 She was always friendly, kind hearted and generous; she was also renowned for her cake making: at any village event Joyce would be running a cake stall (often assisted by her friend, Vera Smith, who lived very near her). Joyce had two daughters, Liz and Jill, and it was Jill who lived with her mother and looked after her so conscientiously in her last years.
All Saints Church West Farleigh was Joyce's special love and where she accomplished so much devoted service. She was Church Warden at All Saints for a substantial period: much of it alongside Peter Day. She influenced the format of services as well as undertaking considerable work on the fabric of the building. Joyce was a person with high standards, who always gave of her very best in everything she undertook.
For a great many years Joyce was a major organizer of the Annual Harvest Supper, taking a keen interest in the catering, the entertainment and the whole programme. There were countless West Farleigh village events where Joyce would be playing a major part, so inevitably she was known, and loved, by a great many people over a long period of time.
Joyce was a member of the Women's Institute in Maidstone for many years; and she would sell garden produce and homemade cakes at their Friday Markets: her contribution here was of a particularly practical nature: Joyce was a "doer" rather than a "talker", and someone who liked to get on with things. Her special Charity which she supported for much of her life was the RNLI.
Joyce, who was widowed in 1983, died on Thursday, 1st January 2015. She leaves her daughters, Liz and Jill; her grandchildren Claire and Alexander, and great grandchildren, Daniel and Beth.
Hugh Grainger
January 2015