DR JAZZ – ALL SAINTS' CHURCH
FRIDAY, 17 JUNE 2016
Once again, the bluesy syncopators of the Dr Jazz ensemble kept us enthralled for an evening. The band was on form, as always, and their lead singer Lyn Falvey kept the audience spellbound; her strong vocals led the way in the songs.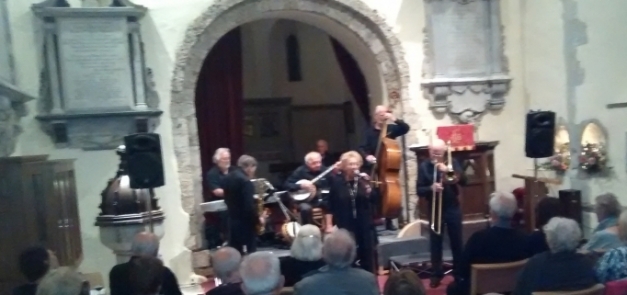 These folks are so confident in each other that they move through their numbers with the precision of well-oiled machinery, helped along by their backchat in between. The stomping rhythm section (Robin Beames on drums – Ian Rogers on double bass) sets the pace for the immaculate intertwining of the trombone played by Keith Blundell, cornet (Dave Kedge), clarinet and sometimes tenor sax (Graham Buttenshaw), keyboard (Colin Martin) and banjo (Nobby Willett) . Hearing each of these musicians' solos is to sink into a relaxed and blissful state in the full knowledge that you'll never be let down. It is gutsy music, with no gimmicks. Lyn hits her pitch with perfect precision every time; and her rendering of 'Mood Indigo', heard before many times, makes this reviewer's eyes smart still. The tunes and songs were beautifully simple.
Another highlight of the evening was "I wish I knew how it felt to be free," (popularised by Nina Simone) here with wonderful interludes featuring the trombone, clarinet and Lynn's stirring vocals.
The band got a standing ovation from the hep audience whose memories go back to the fifties and sixties - when trad jazz suddenly got 'with it' in the UK.
The band's final number was 'It don't mean a thing' which has given at least this writer an earworm which he's not too worried about.
We all look forward to seeing Dr Jazz again here – and meantime: don't forget they perform regularly in other places close to us.