PORK ESCALOPE IN BREADCRUMBS WITH SPAGHETTI NAPOLITAN
SERVES 2
By Brian Cushing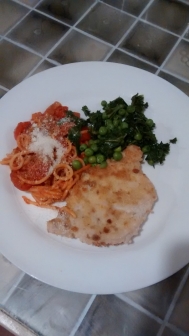 Ingredients
For the pork
2 pork loin steaks, about 100g each
2 tbs olive oil
1 fresh egg, beaten
75g dried breadcrumbs
2 tbs plain flour
1 lemon
For the spaghetti napolitan
150g spaghetti
2 tbs olive oil
1 small onion, chopped
2 cloves garlic, crushed and chopped
2 tps dried oregano
12 cherry tomatoes
3 tbs tomato passata
Slug of red wine
1 tbs grated parmesan cheese
Salt & pepper to season
Method
For the pork
Sandwich the pork steaks in clingfilm and roll out until about 1 cm thick.
Put the flour, egg and breadcrumbs each in three separate bowls.
Dredge the steaks to coat in the flour, then the egg, then the breadcrumbs.
Heat the oil in a frying pan. Fry the steaks for 3 minutes each side. Keep warm.
For the spaghetti napolitan
Heat the oil in a frying pan. Gently fry the onions and garlic until soft.
Halve the tomatoes, add them and the passata to the onions.
Add the oregano and red wine. Have a glass, you deserve it if you've got this far.
Season with salt and pepper. Turn down heat, cover and let bubble away for 30 mins.
Meanwhile, bring a saucepan of water to the boil. Add the spaghetti, boil for 15 mins.
Drain, swirl in a splash of olive oil, stir in the napolitan sauce.
Squeeze half the lemon over each pork steak, serve up with the spaghetti sprinkled with parmesan.
If you want extra veg for your 5 a day, chopped green curly kale and peas, steamed and mixed together, goes very well with this dish!