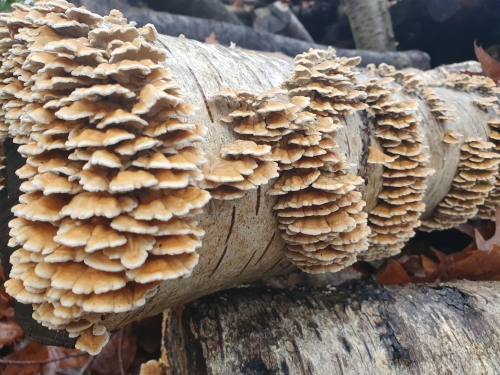 Now that the Christmas period has passed it is time to start preparing our gardens for the new year. Firstly I would like to revisit the blog I wrote back in April 2019 mentioning a new area within the garden, that had previously been taken over by ivy. The area has now been cleared of ivy and new plants planted, we are awaiting a few more additions to finalise the area. The bed has been weeded throughout 2019 to reduce the weed seed bank and a thick layer of organic matter had been added to also assist in weed control and increase the fertility of the soil. The plants that we have chosen are a great mix of shrubs, perennials, evergreens and bulbs. The main season of display will be throughout the winter, where the garden currently does not have much representation. Photo from the day of planting.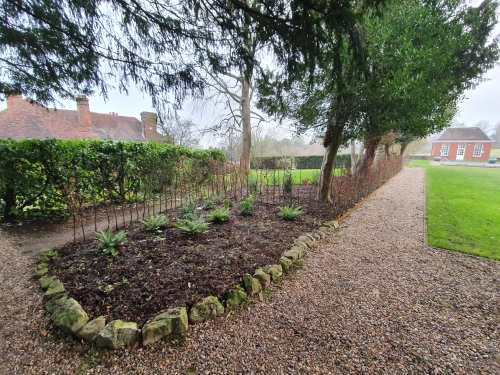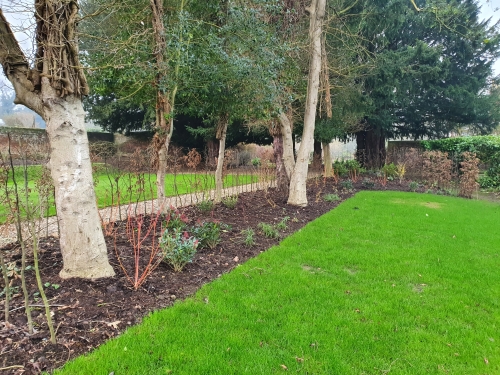 Throughout the past month we have finished pruning all of roses. Roses make a great architectural element to the garden in winter. This time of year you can see the true bones of the garden. If you are going to fertilizer your roses, it is best to do it between February – March, a generous amount of organic matter can make a big difference to your roses over the next growing season. March is when we start to prune the more tender plants such as Penstemons, as well as those that we are trying to control the new growth of for example, Buddleia, Fig and Hydrangea. It is important to wait until March to allow for the lasts of the frosts to past and the weather to warm slightly to give the tender plants the best chance of survival.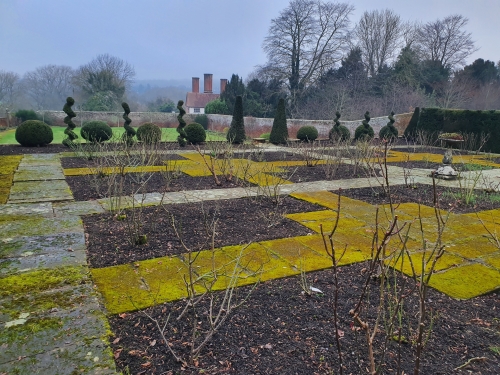 It is important that all hedges that need to be cut are finished by the end of February to allow for the birds nesting period, it is essential that we do not disturb any nests or remove any material that may expose them. If you still have hedges to cut its time to get them done!
In the Garden we have four individual colour themed beds, White, Red, Blue and Yellow. This winter we have removed the red border that had lost its way. I have re-designed the Red border and will hopefully be planting the new design in spring 2021. We are leaving the bed clear for the year to help reduce the weed seed bank, we shall keep you posted of the upcoming progress of the bed throughout the year.