Jon is on holiday this month so we included this special item about Martyn Jones and his terrific work at All Saints churchyard, especially coming up to Village in Bloom!
++++++++++
Keeping a churchyard tidy is hard work. Think of the uneven ground, the gravestones and the trees. And there are lots of corners.
So next time you are passing, stop by All Saints churchyard and admire the work of Martyn Jones and his assistants. The Village in Bloom committee was so impressed, they decided to have a go at the special "Churchyard of the Year" award this year.
I talked to Martyn as we walked round the other day.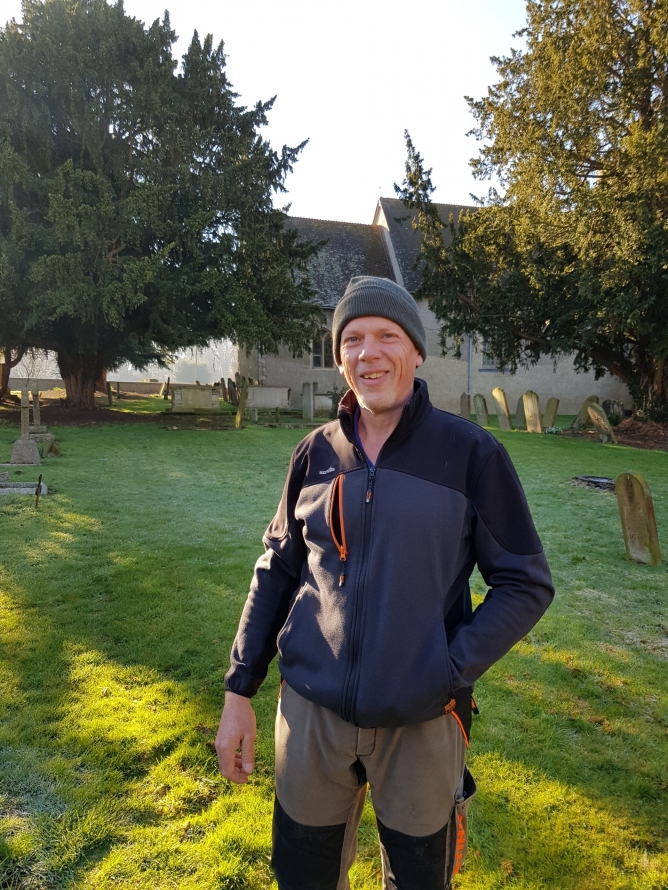 (Martyn Jones: teenage years here in West Farleigh)
Martyn's roots here go back a long way – his parents moved here from Snodland when he was 11, and he lived in Chequers Cottage (as it then was), next door to the Tickled Trout. He remembers as a boy sitting on John Day's combine harvester, shooting at rabbits, pigeons and crows as the wheat was harvested.
As a lad, he started work at Tesco in Tovil, and then joined with an engineering company down in Paddock Wood, machining brake disks and camshafts. The auto industry is an uncertain employer (as we see today!). 15 years later, having survived 9 rounds of cutbacks, he decided to jump ship.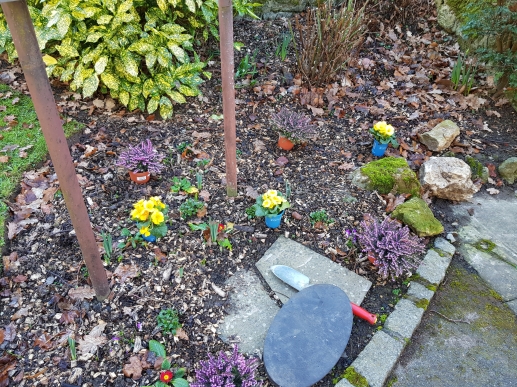 (Planting spring flowers by the front gate)
He used his redundancy money to get the qualifications he needed to work outdoors, doing landscaping, tree work and gardening. Starting the business was hard. He went door to door, dropping leaflets. His first customer was Pip Wakefield on Lower Road (and she is still a customer today!) But he persisted, and he got work all round Maidstone.
In March 2015, MJ Garden and Property Care won the tender to look after All Saints. Since he took over, the grass has been cut, there are no brambles and nettles and the yew bushes look as tidy as guardsmen on parade (see below)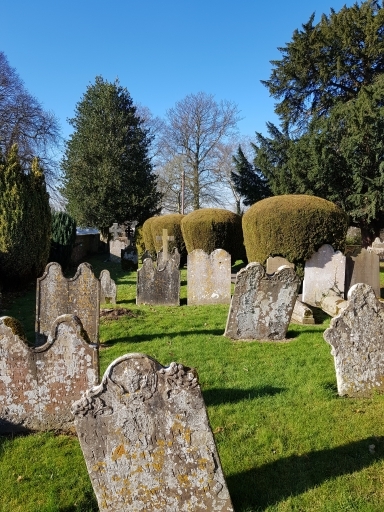 (Yew bushes as tidy as guardsmen on parade)
With Village in Bloom in mind, work has accelerated. Donating several days of labour, Martyn and his crew have cleared the spaces under the trees, planted meadow flowers by the gate, and removed piles of old tiles and debris. Even the old bonfire site has been planted with wild flowers. The work has exposed graves and memorials that haven't been seen for a generation (see Martyn and his assistant Stephen above)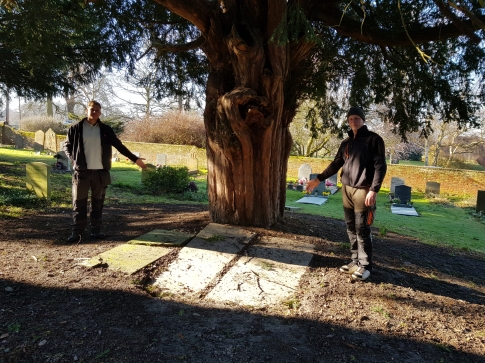 (Memorials that haven't been seen for decades)
Landscape gardening is not Martyn's only passion. He is a historian, and fascinated by the marks that the Romans left on our landscape (quarries for example). Recently he bought a metal detector and has been prospecting along the river banks (with the landowners permission!). The very first object he found was a mediaeval purse bar.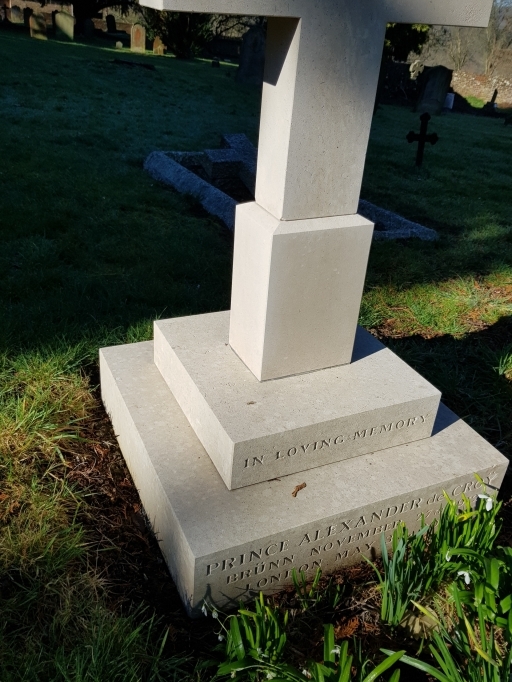 (The last resting place of Prince Alexander Croy and his wife Princess Primrose,
a generous donor to All Saints. An article about them will be on the website shortly).
We owe MJ and his wife Teresa, (who is an enthusiastic supporter of all these initiatives), a big thank you for their efforts and feel confident that the Village in Bloom judges will be just as impressed.
Come and see the churchyard for yourself at the annual plant sale on Sunday, 12th May. 2019, 10am to 5pm. This year, it's a joint venture with the PCC and Village in Bloom. You can enjoy Kentish Cream Tea and buy a wide variety bedding plants and more exotic things for your garden. And bird boxes (which can be personalised to give as presents)!