BLOOMING JUNE
The lovely month of June brings the glorious British summer and loads of exciting growth and colour to our gardens. The mad rush to get all things planted has passed and it's time to enjoy all your garden has to offer.
Keeping on top of your garden is the order for June and with regular pruning, trimming, weeding and cutting you will ensure you will have a garden worth enjoying all summer long.
SPRING BULBS
A question often asked is when should you clear away or cut down the old daffodil and tulip leaves. They do look unsightly after the flowers have faded and are often in front of borders and can be untidy as your summer borders start to take shape. Best to just wait until they die down naturally and start to go brown. The foliage just pulls away and can easily be cleared.
A lovely late spring/ early summer bulb which are flowering now are Alliums. So many different varieties to choose from and they have become very popular in recent years. I planted a new collection of purple varieties under a tree last autumn which are now flowering. ( see pic)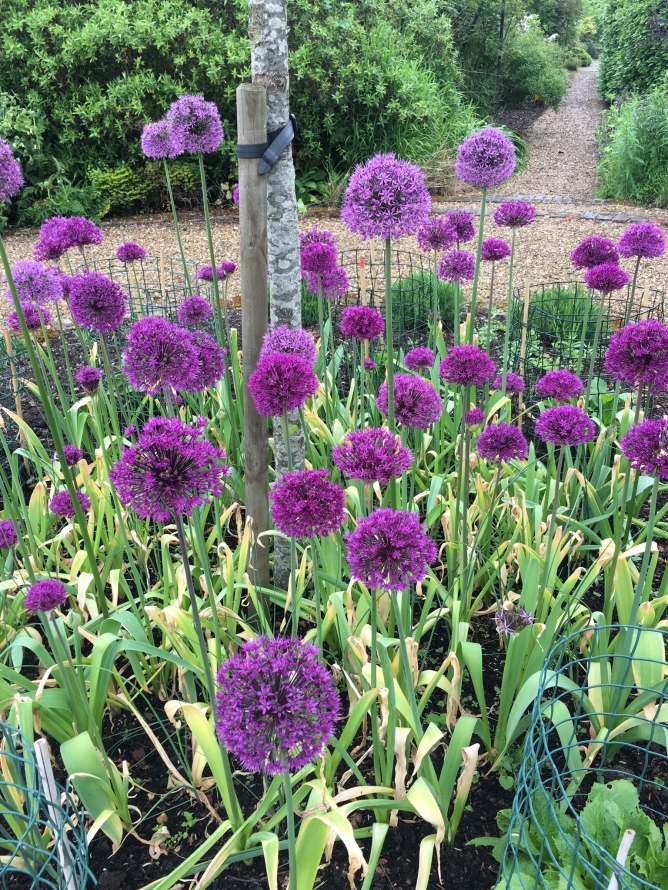 IRISIS
We have had a magnificent multicoloured display of bearded irises this year. They started mid May but hopefully will continue into June for our NGS garden open day!
After flowering you can split and divide over crowded clumps of irises. Choose the healthy new plants while discarding the old to the bonfire. Cut the leaves back to about 9 inches in length so as to avoid the roots been loosened by the wind.
Remember they like their rhizomes in the sun so don't plant them too deep.
This should generally be done every 3/4 years.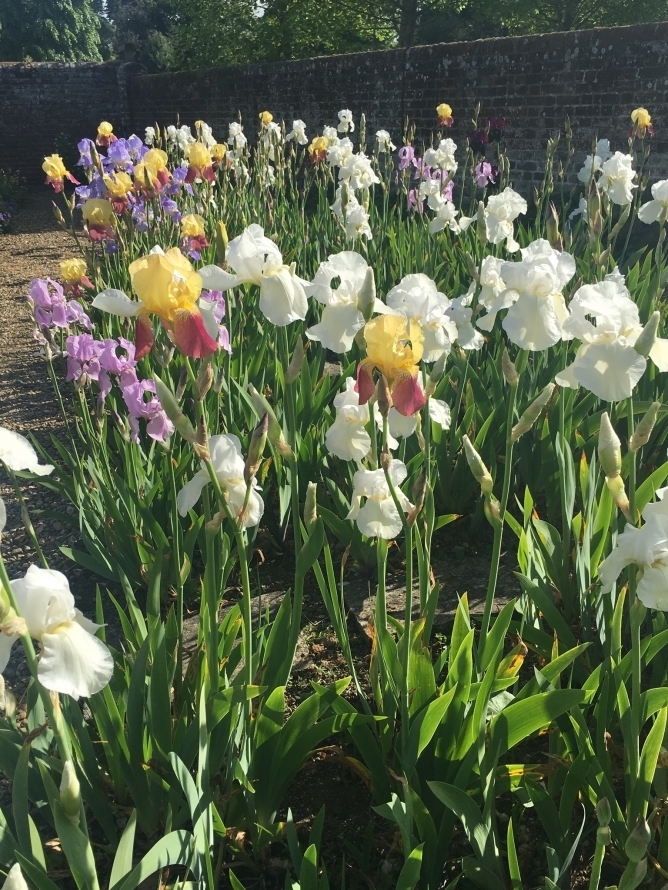 PERENNIALS
Your summer borders full of perennials will be in full flow by now. Some of these you can get to repeat flower, especially the early ones such as poppies, delphiniums and lupins. Cutting them back hard after flowering will result in a second wave of foliage and in some cases a second summer flush of flowers.
Remember to keep staking and tying in the tall ones!
ROSES
June is typically the month in which roses are at their peak, so ensure you stay on top of deadheading to keep your displays looking as stunning as possible. Watch out for black spot on leaves, simply remove these when you see them. Aphids will also attack fresh flower buds and growth on roses. Keeping them sprayed regularly with a rose spray will help.
AND FINALLY
I am sad to say unfortunately this will be my last article. I have decided that after gardening for 35 years, since I was 12, it is time to make a career change.
Gardening will always be my passion and I have loved every day of my career and especially working for the Norman family at Smiths Hall for the last 28 years.
The garden will be open on June 4th which will be my last day and I would love to see you all there.