The weather at this time of year can be challenging for gardeners. There are lots of jobs to be done,but with shor,t cold and often grey days the garden doesn't always look that inviting.
However, Spring really is just around the corner and evidence of this is springing up all around. One of the first signs of colour will be an old favourite of mine the snowdrop, soon followed by the bright yellow heads of the winter aconite.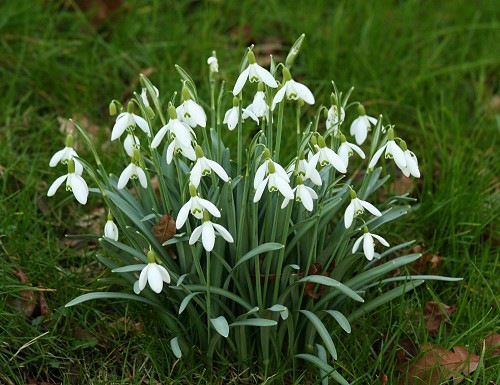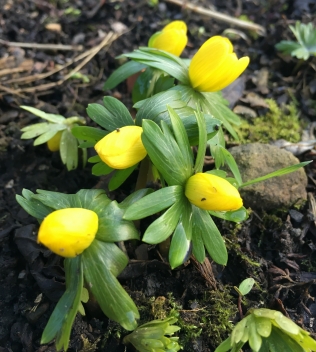 Galanthus (snowdrop) Eranthus (Winter aconite)
A useful tip is, if you have large clumps you would like to divide or plants that you would prefer to move to another part of the garden, then do this when they have finished flowering but still have their leaves.
Another lovely plant I like to see now are Helleborus, they make large showy clumps that last for weeks.Best to cut away any of last years large or browning leaves before they flower to give a much better display. You will see in the pic below how i have cut away the front leaves and left some at the back.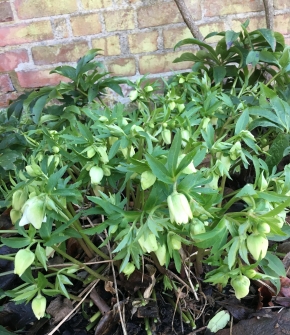 PRUNING
This month I will be pruning late summer flowering shrubs, such as hardy fushias, which get cut hard back to the base. Buddlias I prune hard back to a 1.5M(5FT) framework, as i need mine tall as they are at the back of the herbaceous borders. You can however cut them as low as you like as long as you can see healthy dormant shoots which will grow.
Roses I will start to prune later this month as I have so many here, but you can wait until early March, as long as they are still dormant.
I will talk next month about different Rose types and the way they should be pruned.
The next on the 'must do' list this month is Wisteria pruning.
Its very simple but you have to be brutal. All of last years growth, which hopefully you pruned in half last summer, now needs to be cut hard back to 2 or 3 buds from the main branch leader.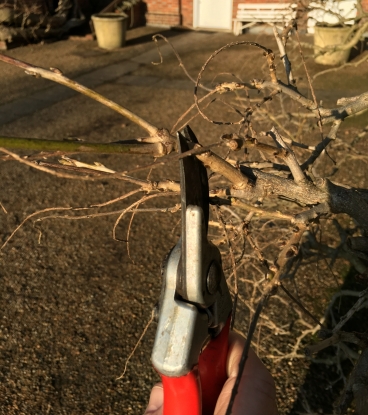 PLANTING
There is still time to plant new shrubs or trees, including roses. They can be bought bare rooted during the dormant period which is usually a cheaper option.
AND FINALLY
If the weather isn't great, then this would be a good month to think what changes you might like to make or what new plants you might like to grow this year. Browse through catalogues or perhaps visit a local garden centre for inspiration.
Happy Gardening!