November will give us a few frosty mornings and signs that winter is on it's way!
As we start to clear our gardens and have more bonfires and with bonfire night on the 5th, spare a thought for our hedgehogs looking for a place to hibernate at this time of year.
The best advice is to build your bonfire as close to the time you want to light it, giving less time for them to find the pile and 'move in'.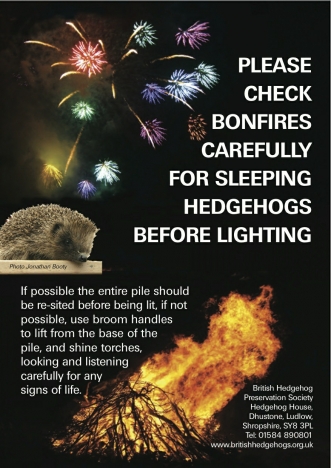 Tulip Planting and other bulbs
You may have already planted your spring flowering bulbs but if not, there is still time this month. Hopefully you have listened to my advice an held back on planting tulip bulbs!
The reason is if you plant them early autumn they are prone to getting a fungal disease called 'tulip fire'.
You might have seen the symptoms in previous years but not known the problem. These are brown spots with withered and distorted leaves and flowers which look like they have been scorched, hence the name.
Leaf Clearing
You are probably getting bored of all the falling leaves but in my experience it is far better to clear them regularly. It keeps the garden tidy and prevents them getting clogged to the ground which can then become a mammoth job to clear. Remember ponds should be kept clear of leaves so if you have a tree nearby perhaps net it until they have all fallen.
Greenhouse
The greenhouse by now would have finished cropping and should you have leftover tomatoes you could make green tomato chutney before you give the whole area a winter clear and clean.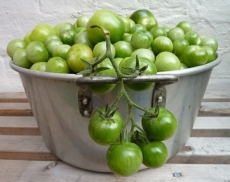 I remove all the old tomato string supports, fallen leaves and put away empty pots into the shed. The reason being pest and diseases can overwinter until the spring.
A good tip is after a clear out you could use a diluted solution of Jeyes fluid to sterilise paths and work benches etc.. ( follow directions on the product)
Move tender perennials inside
Now you have a nice clean greenhouse its time to bring in any tender perennials you may have. I overwinter bananas,cannas, daturas, and oleanders.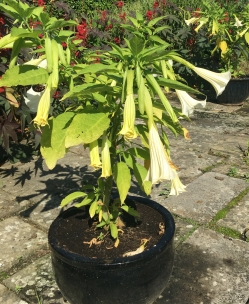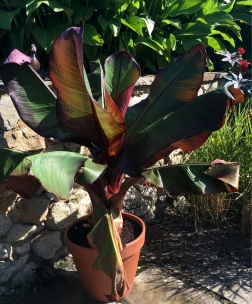 I will give my greenhouse a double protection with bubble wrap which should be enough to keep them going over the winter. Cut away any leaves as they die off and on sunny days its a good idea to open the air vents to give some air circulation to help prevent fungus spores developing and killing your plants.
If you don't have a greenhouse but you are worried about some tender plants then pot them up if they are not already in pots and move them to a warm wall or even a garden shed near the window. They can then be wrapped up in either horticultural fleece or straw tied with string. These both give air to the plant,and protection, don't use plastic or polythene as this again will encourage sweating and disease.
Soft Fruit
It will probably seem strange to be thinking about lovely summer berries in November but this is the right time to get new plants in the ground for next years cropping.
Garden Centres or mail order will stock potted, or better still bare rooted plants for sale. The advantage of bare rooted is that they are usually cheaper and as they are dormant now they are considered the best choice.
All the current and gooseberry bushes should give you a light crop next year but Raspberry canes will need a year to grow their new canes unless you go for autumn cropping which would give a small harvest.
Rhubarb
If you have a large overgrown rhubarb crown tucked away in your garden then why not give it a new lease of life.
You can now dig it up and divide it to produce more vigorous and healthy plants. Once you have lifted it, take a sharp spade and slice down the middle. Each piece should have some growth buds visible. Replant with plenty of organic matter and a handful of fertiliser.
Borders
You may decide if you haven't already, to cut your herbaceous borders down. I leave mine until December as the cold frosty mornings can give a beautiful display, i will try and find a picture to show you.
As long as the ground is not waterlogged or frozen you can continue to plant herbaceous plants, shrubs, deciduous trees and roses.
Roses
Large shrub roses or tall hybrid T's can be lightly pruned now just to get some weight from the tops. Roses are shallow rooting and can get wind rock and become very loose in the soil which they don't like at all.
These can still be ordered and planted now. Most mail order companies start sending out plants from November until March/April but the earlier you get them in the better!
Birds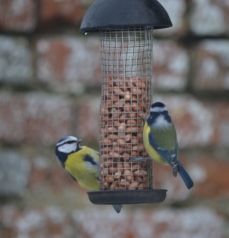 Some people feed wild birds all year but i personally think there are so many seeds and insects around for most of the year to keep them going. As i clear my borders i will start to fill up my bird feeders weekly right up until late spring to help them through the winter.
Finally..........
So there is still jobs out there to do, put on your Wellington boots and coats and enjoy the crisp clean air and beautiful autumn colours!