Our glorious September gave us plenty of late summer sun and even the hottest recorded September day since 1911, recorded in Gravesend at 34.4C ( 93.9F).
This for me means that many of the larger autumn jobs will be left until October, the weather will be cooler, damper and shorter days. There is still plenty of time to plant new shrubs or perennials if you have gaps that need filling.
Many of the established perennials can be divided such as hemerocallis (daylilies),hostas or crocosmia.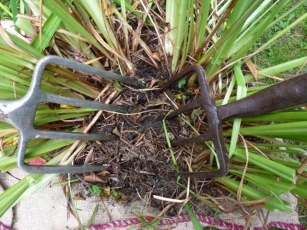 Cut back and divide the clumps by lifting carefully and separating down the centre with 2 forks back to back. This can often be repeated a few times to give you 4 or 6 new plants. Replant with plenty of organic matter and water well.
Use Back-to-back forks to divide clumps
Talking of organic matter you will probably have leaves everywhere which will need raking or swept. If you haven't already got one and you have space then make a pen out of chicken wire and posts and start your own compost bin.
The only leaves I don't recommend you put in there are fallen rose leaves. Any pest or disease spores will overwinter there and next spring will be back on your new rose growth! These are best burnt or disposed off elsewhere.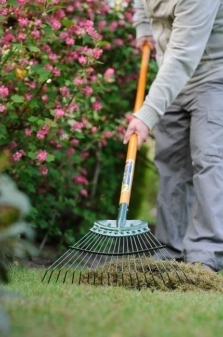 Lawns are best raked with a springbok rake, not only do you clear the leaves but the tines will pull out any thatch and moss, helping to keep a healthier lawn. Thatch is a build up of cut grass which builds up over the cutting season. This too can be added to the compost bin.
Perhaps you could invest in an autumn weed and feed now too to give your lawn a tonic.
Continue to get any new bulbs in now but hold off on the tulips, they get planted next month!
Summer bedding in pots will probably be past its best and need clearing and you can now buy winter flowering plants to replace them such as heathers or pansies and many others you can easily find in local garden centres.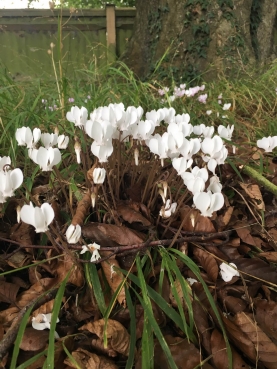 Apart from your pots, you can still find flowers of interest around the garden. Hardy cyclamen do well under trees and don't mind the shade.
White Cyclamen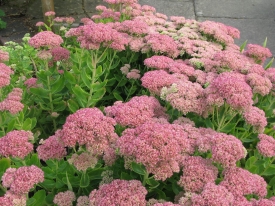 Purple and blue Asters in the herbaceous border along with one of my favourite late flowers which is Sedum 'Autumn Joy'
This is a lovely time of year to give the garden a good clear up and enjoy the beautiful colours the autumn fall gives us, happy gardening!
Sedum 'Autumn Joy'